Gear Up and Go to War – Available Now!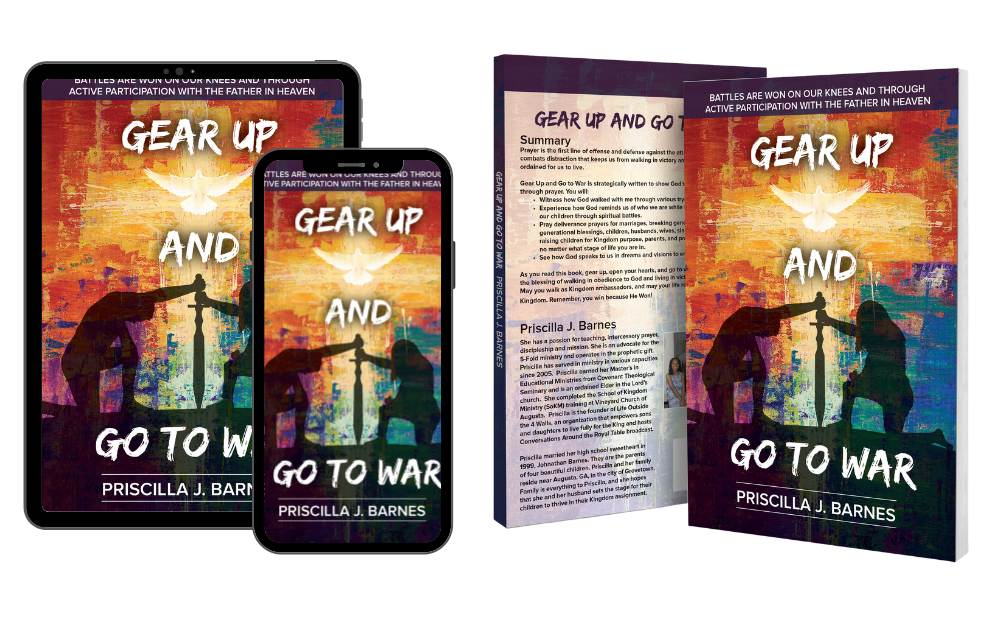 Description
This book was written to encourage and empower you to walk in victory in all areas of your life. You will learn how God divinely walked with me and defeated every plot and plan of the enemy in various areas of my life. God won every spiritual battle. He reminded me of who I am in Christ, Jesus. This book will give you the tools and fortified strength to stand against the attacks of the enemy as God fights your battles. You will walk in complete victory. Gear Up and Go to War is a reminder that prayer is the first line of offense and defense against anything that stands in the way of us walking in victory and living the life that God intends us to live. May you open your heart to the blessing of walking in obedience to God and grabbing hold of victory in every area of life. May you walk as Kingdom ambassadors, and may your life reflect the King and His Kingdom. Remember You win because He Won!
What people are saying about Gear Up and Go to War!
"Gear up and Go to War is a clarion call to prayer. You will be challenged to let go of fear and move forward in your prayer life. It not only tells you to pray but provides some sample prayers for yourself, your family, and your community. The author also provides testimonies of how prayer has worked in her family's life. Get this book today, you will not be disappointed." ~LaTiJera Kemp~
---
A must-have for anyone wanting to go deeper in prayer! – " Finally a book that not only gives you divine insight and revelation on prayer and warfare but Priscilla walks you through it with scriptures, transparency and truth. This is definitely a tool and prayer manual for anyone who wants to go deeper in prayer. No matter what level you feel you're at, this book will strengthen and encourage you." ~ Jermaine Manor~
---
Insightful and full of godly truths – "Priscilla has hit so many truths for me in her book. A super easy read and full of insightful, godly wisdom. A great book to help guide you through the battles we face everyday. " ~Tamar Luck~
---
Gear Up and Go to War is Powerful! – "Gear up and Go to War is an extremely powerful book that encompasses every facet of your life. It truly helped me to see how I can be a witness for Jesus Christ each day and live life seeking to hear from God. This book shared relatable life experiences, inspiring prayers and biblical scriptures. GEAR UP!!!!!" ~" James and Yolanda Scott"
---
Be Encouraged! – "Relatable. Timely. Personable. Encouraging. Do yourself a favor and grab this book to enhance your walk with the Lord." ~ Amanda Riggs~
---
"Many books tell us we need to pray and this one give us scripture-filled examples to model. Of course the Lord's Prayer is an excellent model of "how to" pray, however this book has a variety of prayers by subject that give you an idea of what to pray; powerful prayers covering many aspects of life. Reading how Priscilla worked through family situations and spiritual battles reminded me of times in my life that God showed up and got me through. Her vulnerability to share her story showed that God is always with us and beside us no matter how we "feel" in life. If you need a powerful God boost or feel your prayer life needs a shot in the arm, this book will kick-start and revive your prayer life to be the powerful, Spirit-filled Warrior Prince/Princess your Heavenly Father created you to be."
~ Patty Pearson~
---
A Call for Prayer! – "This book gives you scriptures along with real life examples that will help you understand not only the meaning of prayer, but the reason for prayer. You will definitely be ready for war after this read!"
~Jessica Hunter~
---
The Power of woman, man, teen or child is addressed in this book! – "This was a book that I read the same day it arrived. It had a lot of really good spirit led information.This book came out at a time when it was most needed by the world. It is well worth the read and the money!"
~Donna Frick~