Priscilla is a seeker of the Father's heart in all things. She has a passion for teaching, intercession and operates in the prophetic gift. She loves to see people come to faith and live as sons and daughters of the King. Priscilla uses her voice to uplift others and to proclaim God's truth wherever and to whomever God sends her. She is determined to walk in the kind of faith that sets people free from bondage.
In 1999 Priscilla married her high school sweetheart, Johnathan Barnes and they have four children. Priscilla and her family reside near Augusta, GA in the city of Grovetown. Family is everything to Priscilla and it is her hope that she and her husband sets the stage for their children to thrive in their Kingdom assignment.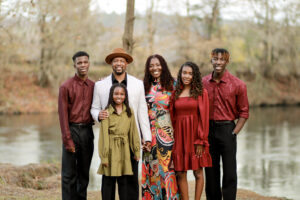 Priscilla graduated from South Carolina State University with a B.S. in Mathematics. She also earned her Master's in Educational Ministries from Covenant Theological Seminary and is an ordained Elder in the Lord's church. She has completed a training seminar in Apostolic Prophetic Healing and Deliverance at Christian International and is a graduate of of the School of Kingdom Ministry (SoKM). She has served in ministry in various capacities since 2005. She has served in children, youth, college, women & pastoral ministries. For 4 years she worked on a church staff as the Youth Program Coordinator and has served as a Bible Study Fellowship women's small group leader.
Priscilla is a homeschooling mom, President of Virtual Ministry Assistants; which provides virtual administrative and accounting support for Churches/Ministries.  She is also Co-founder of Ministry Moguls, LLC, and the author of Gear Up and Go to War.  She volunteers with the Augusta Eagles Basketball Homeschooling league as Co-Committee Lead. Priscilla also hosts the monthly broadcast "Conversations Around The Royal Table" (centered around the transforming Word of God). View the latest episode by clicking here.
Priscilla has found strength and encouragement from these two scriptures her entire life. Isaiah 40:31; But they who wait for the Lord shall renew their strength; they shall mount up with wings like eagles; they shall run and not be weary; they shall walk and not faint and Hebrews 10:36-39; For you have need of endurance, so that when you have done the will of God, you may receive what was promised. For yet in a very little while, He who is coming will come, and will not delay. But My righteous one shall live by faith; And if he shrinks back, My soul has no pleasure in him. But we are not of those who shrink back to destruction, but of those who have faith to the preserving of the soul.
If you would like to book Priscilla to speak at your ministry; Click here to fill out our form.
---
Gear Up and Go to War – Available Now!